GBC Chiropractic is here to provide our patients with a high quality of care and compassion through the utilization of Chiropractic manipulation, physical medicine, nutritional supplementation and acupuncture. We are committed to serving the needs of our patients.

We are proud to offer the following services:
Chiropractic Adustments
Massage Therapy
Decompression Therapy
Nutrition and Exercise Counseling
Wellness Planning
Physical Medicine
Graston Technique®
Acupuncture
Instrument Assisted Adjusting
Webster Technique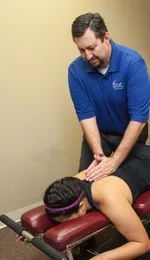 We treat the following:
Back Pain
Disc Alignment
Joint Pain
Achilles Tendonitis
Spinal Degeneration
Sciatica
Headaches
Carpal Tunnel Syndrome
Whiplash,
Sports Injuries,
Neck Pain
Stiff Neck
Car Accident Injuries
Arthritis
Frozen shoulder
Hip pain
Pulled hamstrings
Radiating Arm and Leg Pain
Sprained Ankles
Rotator Cuff Tendonitis and Tears
Tennis Elbow
We utilize chiropractic, physical medicine, acupuncture and decompression treatments to achieve our goals. We accept injuries caused by automobile accidents, sports related, and injuries caused at the workplace. We can help reverse the effects of injuries caused by repetitive motion, poor posture, and poor lifting habits.
New patients are currently being accepted
Call today for your appointment
GBC Chiropractic

325 FM 517 Rd E
Dickinson, TX 77539
(281) 337-7000
info@gatewaybaycolony.net